Last edited on February 21, 2021 by Sarah Pereira
Livraria Lello is dubbed the Harry Potter library, Livraria Lello is arguably one of the prettiest libraries in the world. But is it worth the visit?
Livraria Lello's History
With its roots dating back to 1881, Livraria Lello was initially a dream of José Lello. For a long time he had only dreamed of being a bookseller. After José opened the bookstore, António Lello, his brother, joined in helping his project come to life. José, being the one with a passion for culture, books, and music. Little did the two know that at that time their establishment, dedicated to selling books, would later be one of the most well known bookstores in Portugal. In 1894, the pair made a big investment – buying Chardron library, therefore receiving its exclusive archive. Finally, on January 13th, 1906, the brother's library is introduced as the Livraria Lello, the building as we know it today. The library took its form from the blueprints and skill of engineer, Francisco Xavier Esteves.
My Experience
Known as the 'Harry Potter' library, Livraria Lello is arguably one of the prettiest libraries in Portugal. Livraria Lello inspired the 'Flourish & Blotts' in Harry Potter. As many have mentioned, this is library doesn't present or display much of its history other than it's existing architecture. Their souvenirs are also quite pricey, you won't regret buying anything. Looking back when I visited, I got a copy of Harry Potter, which I love, I wish I had the chance to get something from Livraria Lello's souvenir section too.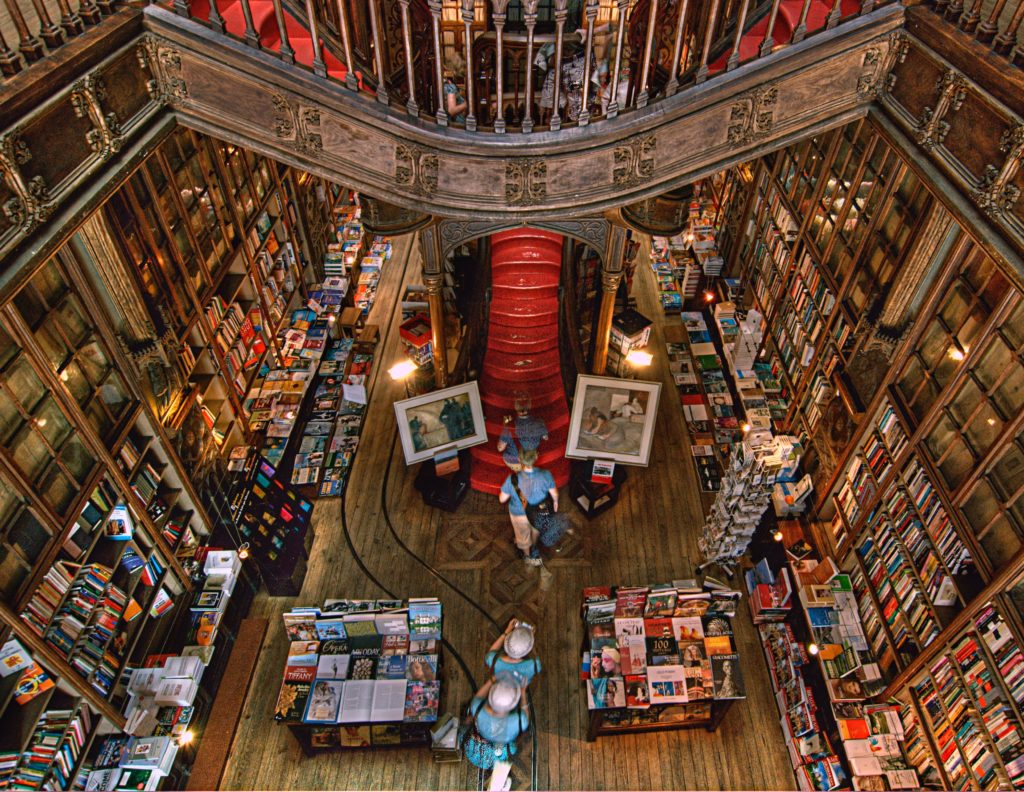 Location
As for its location, Livraria Lello is very accessible, located in the commercial streets of Porto. If you plan to stay the day in Porto, Lello is a good place to start, there are many cafes and restaurants nearby. Though warning, some of the food can get quite pricey so look in advance. So, you don't end up paying a hefty sum of money for food when you could have gotten it for less.
If are planning to go to Livraria Lello in the summer, be prepared to wait for a least 30 minutes. The waiting part isn't as hard as it seems because the streets connected to Livraria Lello are always filled with people to distract you from the waiting. Though, I stand by what I said in the beginning, Livraria Lello is only worth visiting if you can go during a time where there aren't many people. I can't speak for when there is a time with less people but I'm assuming during September-November at around 10am-11am or 5am-6am would be a good time to go. You should also, if possible, try and book your tickets in advance simply because of the number of attraction Lello gets.
Lastly, the price of a ticket (voucher) may be applied to the cost of a book. Like I did, I recommend applying your money toward a Harry Potter book as there are many different editions available. Of course, you aren't limited in what book you can buy, but a Harry Potter book from the place that inspired a place in the books would be a memorable souvenir.