Last edited on October 11, 2021 by Sarah Pereira.
Whether you've read Stephen King or have seen a horror movie, you'll definitely love these spooky reads perfect for the month of October. These must-read books will definitely give you the chills and thrills. Check out my Goodreads so you can stay updated on new reviews! You can also check our A-Z index to see if we've reviewed a book you're interested in.
No Exit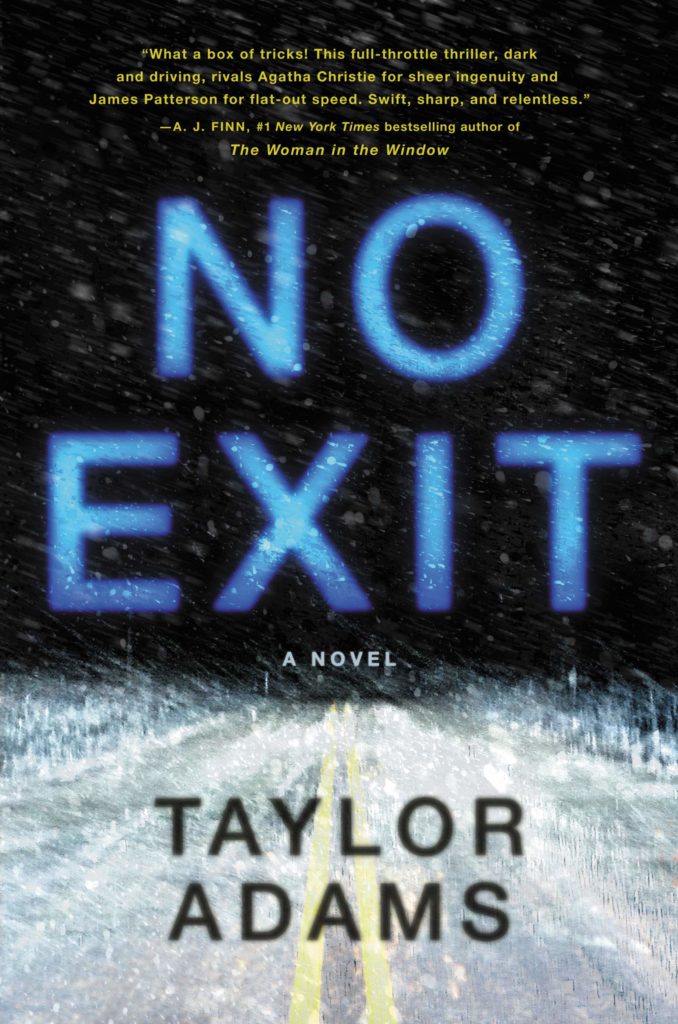 A kidnapped little girl locked in a stranger's van. No help for miles. What would you do?
On her way to Utah to see her dying mother, college student Darby Thorne gets caught in a fierce blizzard in the mountains of Colorado. With the roads impassable, she's forced to wait out the storm at a remote highway rest stop. Inside are some vending machines, a coffee maker, and four complete strangers.
Desperate to find a signal to call home, Darby goes back out into the storm . . . and makes a horrifying discovery. In the back of the van parked next to her car, a little girl is locked in an animal crate.
Who is the child? Why has she been taken? And how can Darby save her?
There is no cell phone reception, no telephone, and no way out. One of her fellow travelers is a kidnapper. But which one?
Trapped in an increasingly dangerous situation, with a child's life and her own on the line, Darby must find a way to break the girl out of the van and escape. But who can she trust?
The Sun Down Motel
Something hasn't been right at the roadside Sun Down Motel for a very long time, and Carly Kirk is about to find out why in this chilling new novel.
Upstate New York, 1982. Viv Delaney wants to move to New York City, and to help pay for it she takes a job as the night clerk at the Sun Down Motel in Fell, New York. But something isn't right at the motel, something haunting and scary.
Upstate New York, 2017. Carly Kirk has never been able to let go of the story of her aunt Viv, who mysteriously disappeared from the Sun Down before she was born. She decides to move to Fell and visit the motel, where she quickly learns that nothing has changed since 1982. And she soon finds herself ensnared in the same mysteries that claimed her aunt.
Misery
Paul Sheldon is a bestselling novelist who has finally met his number one fan. Her name is Annie Wilkes, and she is more than a rabid reader—she is Paul's nurse, tending his shattered body after an automobile accident. But she is also furious that the author has killed off her favorite character in his latest book. Annie becomes his captor, keeping him prisoner in her isolated house.
Annie wants Paul to write a book that brings Misery back to life—just for her. She has a lot of ways to spur him on. One is a needle. Another is an axe. And if they don't work, she can get really nasty.
Lock Every Door
No visitors, nights spent away from the apartment. No disturbing the other residents, all of whom are rich or famous or both. These are the only rules for Jules Larsen's new job as an apartment sitter at the Bartholomew, one of Manhattan's most high-profile and mysterious buildings. Recently heartbroken and just plain broke, Jules is taken in by the splendor of her surroundings and accepts the terms, ready to leave her past life behind.
As she gets to know the residents and staff of the Bartholomew, Jules finds herself drawn to fellow apartment sitter Ingrid, who comfortingly reminds her of the sister she lost eight years ago. When Ingrid confides that the Bartholomew is not what it seems and the dark history hidden beneath its gleaming facade is starting to frighten her, Jules brushes it off as a harmless ghost story . . . until the next day, when Ingrid disappears.
Searching for the truth about Ingrid's disappearance, Jules digs deeper into the Bartholomew's sordid past and into the secrets kept within its walls. What she discovers pits Jules against the clock as she races to unmask a killer, expose the building's hidden past, and escape the Bartholomew before her temporary status becomes permanent.
The Silent Patient
Alicia Berenson's life is seemingly perfect. A famous painter married to an in-demand fashion photographer, she lives in a grand house with big windows overlooking a park in one of London's most desirable areas. One evening her husband Gabriel returns home late from a fashion shoot, and Alicia shoots him five times in the face, and then never speaks another word.
Alicia's refusal to talk, or give any kind of explanation, turns a domestic tragedy into something far grander, a mystery that captures the public imagination and casts Alicia into notoriety. The price of her art skyrockets, and she, the silent patient, is hidden away from the tabloids and spotlight at the Grove, a secure forensic unit in North London.
Theo Faber is a criminal psychotherapist who has waited a long time for the opportunity to work with Alicia. His determination to get her to talk and unravel the mystery of why she shot her husband takes him down a twisting path into his own motivations―a search for the truth that threatens to consume him…